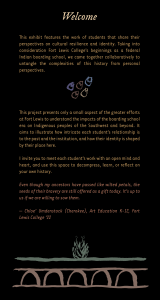 Welcome
This exhibit features the work of students that share their perspectives on cultural resilience and identity. Taking into consideration Fort Lewis College's beginnings as a federal Indian boarding school, we came together collaboratively to untangle the complexities of this history from personal perspectives.
This project presents only a small aspect of the greater efforts at Fort Lewis to understand the impacts of the boarding school era on Indigenous peoples of the Southwest and beyond. It aims to illustrate how intricate each student's relationship is to the past and the institution, and how their identity is shaped by their place here.
I invite you to meet each student's work with an open mind and heart, and use this space to decompress, learn, or reflect on your own history.
Even though my ancestors have passed like wilted petals, the seeds of their bravery are still offered as a gift today. It's up to us if we are willing to sow them. — Chloe' Umdenstock (Cherokee), Art Education K-12, Fort Lewis College '22