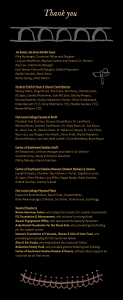 Thank You
As Seeds, We Grow Exhibit Team
Elise Boulanger, Curatorial Fellow and Designer
Liz Quinn MacMillan, Museum Curator and Interim Co-Director
Amy Cao, Collections Manager
Jack Townes (Skycraft Designs), Exhibit Preparator
Maddie Sanders, Mural Artist
Bently Spang, Artist Mentor
Student Exhibit Team, Alumni, and Family Contributors
Shenay Atene, Kirbie Bennett, Paige Brown, Keo Crank, Ana Henry, Hannah Jacks, AJ Lopez, Camela Manheimer, Sam McCullar, Emily McWilliams, Destiny Morgan, Desirae Rambler, Andrea L. Rogers, Eugene Rogers, Maddie Sanders, Kaitlyn Sebwenna-Painter, Chloe' Umdenstock, Rexine Williams
Fort Lewis College Faculty & Staff
President Tom Stritikus, Provost Cheryl Nixon, Dr. Lee Bitsóí, Melissa Mount, Andreas Tischhauser, Dr. Majel Boxer, Dr. Sue Kraus, Dr. Joslyn Lee, Dr. Deanne Grant, Dr. Rebecca Clausen, Dr. Cory Pillen, Ryan Lazo, Jay Dougan, Paul Booth, Simon Chief, Shasta Hampton, Rexine Williams, Lisa Cate, Beth LaShell, Elicia Whittlesey, Bryce Masse
Center of Southwest Studies Staff
Nik Kendziorski, Archives Manager and Interim Co-Director
Gretchen Gray, Library & Archives Specialist
Philip DeHudy, Interim Gretchen
Center of Southwest Studies Museum Student Workers & Interns
Joseph Gonzalez, Chandler-Ray Krylowicz-Turner, Sepphora Llanes, AJ Lopez, Efren Mendez, Lacy Miller, Kegan Roady, Brady Sanchez, Roland Sanchez, Cassidy Schaub
Fort Lewis College Physical Plant
Especially Brent Wallace, David Crank, Howard White, Brian Meixensperger, TJ Wilson, Lou Fisher, Frank Griese, Carl Gregg
Special Thanks to
Native American Center, who helped host events for student involvement.
FLC Foundation & Advancement, who assisted in raising funds.
Alumni Engagement Office, who sponsored the Opening Reception.
Andy Warhol Foundation for the Visual Arts, who provided grant funding to the student artists.
Women's Foundation of Colorado, Women & Girls of Color Fund, who provided grant funding to the Curatorial Fellow.
Alice & Eric Foultz, who helped fund the Curatorial Fellow.
Ballantine Family Fund, who provided exhibit installation grant funding.
Center of Southwest Studies Member & Donors, without whose support we could not do all that we do.