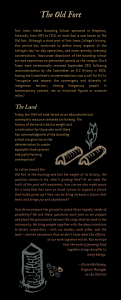 The Old Fort
Fort Lewis Indian Boarding School operated in Hesperus, Colorado, from 1891 to 1910, on land that is now known as The Old Fort. Although a short part of Fort Lewis College's history, this period has continued to define many aspects of the College's day-to-day operations, and more recently, everyday conversations. Inaccurate depictions of the boarding school era and experience on permanent panels at the campus Clock Tower were ceremonially removed in September 2021 following a recommendation by the Committee on FLC History in 2020. Among the Committee's recommendations was a call for FLC to "recognize and respect the sovereignty and diversity of Indigenous nations, viewing Indigenous people in a contemporary context, not as historical figures or museum relics."
Today, the Old Fort land serves as an educational and community resource centered on farming. The history of the land is both a weight and a motivation for those who work there. Can acknowledgment of the boarding school era give rise to the determination to create equitable food systems and joyful farming communities?
The Land
As I drive toward the Old Fort in the morning and feel the weight of its history, the question comes to me, what's growing here? As we meet the truth of the past with awareness, how can we also make space for a land that has seen so much sorrow to support a future that holds great joy? How can we bring forward a future that heals and brings joy and abundance?
How do we prepare the ground to plant these hopeful seeds of possibility? We ask these questions each year as we prepare and plant the ground and harvest the crops that we tend in the community. We bring people together with the deep intentions to foster connection – with our bodies, each other, and the land – and the awareness that we don't know what the effects of our work together will be. But we hope that the work of growing food together brings benefits to many beings.
— Elicia Whittlesey, Farmer Training Program Coordinator at the Old Fort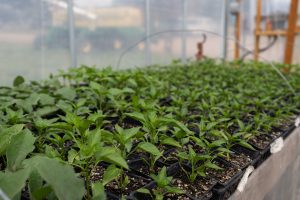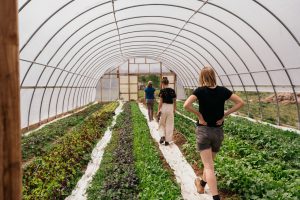 Photos courtesy of Cole Davis, Fort Lewis College, from the Old Fort Farmer-in-Training program.