Ana Henry, Hand in Hand and Hey Fridge-Door!, Andrea L. Rogers, My Native American Father and Edoda Tsalagi (Jigesa), and Eugene Rogers, Nvwadohiyada (Peace)
Ana Henry (Cherokee Nation)
Hand in Hand
Acrylic
Two hands reach to the center of this work where an abstract re-imagining of the
Cherokee water spider (ironically credited with bringing fire to our tribe) and medicine wheel lay.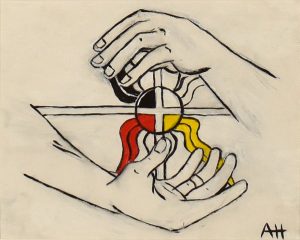 Andrea Rogers (Cherokee Nation)
My Native American Father
Poetry, 1988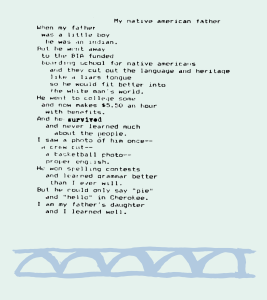 Eugene Rogers (Cherokee Nation)
Nvwadohiyada (Peace)
2007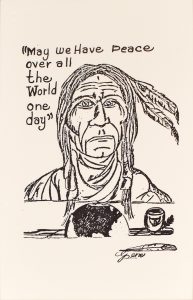 Andrea L. Rogers (Cherokee Nation)
Edoda Tsalagi (Jigesa)
Poetry, 2022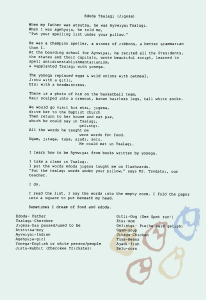 Ana Henry (Cherokee Nation)
Hey Fridge-Door!
Steel, magnets, clay, acrylic, squash (interactive)
Language is a gateway to how we interpret the world. I had a conversation with my mother where we talked about how it would be nice to have a collection of Cherokee language
magnets similar to the English ones you see on just about every fridge. There aren't many mainstream Cherokee language words and syllabary magnets so I made some myself. The corn (Cherokee White Eagle corn), beans (Trail of Tears beans), and squash (Jewel gourd)
allude to the importance of the three sisters and Cherokee Indigenous farming methods.