𐓏𐓘𐓻𐓘𐓻𐓟 𐓓𐓣͘𐓤𐓘𐓻𐓣͘ 𐓘𐓬𐓘 𐓷𐓘𐓵𐓪͘ (Osage Children's Song), translated by Noah Shadlow
𐓏𐓘𐓻𐓘𐓻𐓟 𐓓𐓣͘𐓤𐓘𐓻𐓣͘ 𐓘𐓬𐓘 𐓷𐓘𐓵𐓪͘ (Osage Children's Song)
translated by Noah Shadlow
The Osage children's song was a gift to the Osage people by the Ponca tribe. A Ponca man, by the name of Henry Collins, was asked to create a song for Osage children. In Osage culture, having a song composed for someone is one of the highest honors that can be bestowed upon an individual/organization. In keeping with that tradition, the request for this song was made to Henry Collins on behalf of all Osage children. The song encompasses how Osage people, and a majority of Indigenous people as a whole, viewed their children. That being, children are the focus of life and are to be treated with the utmost respect, dignity, and grace. Physical punishment was never a part of Osage child rearing practices. One would never see an Osage parent, elder, or anyone from the community strike a child. In fact, it was considered a very serious offense to do so. Those practices came along with the missionary/boarding schools implemented by the United States government, as well as the Catholic Church.
Early European colonizers noted that Osage people "worshipped" their children, almost to the point of idolatry. That deep sense of care and love for Osage children carries on into today, as Henry Collins was made aware of when the request of this song was made to him. After speaking with Osage mothers about how they wanted a song for their children, and how they wanted all Osage children to feel honored and cared for in that way, he composed this song.
As a young Osage singer, I feel privileged and humbled to be able to understand what this song means to our people, and to be able to sing it when requested is a high honor for myself. I am thankful to those few people who took the time to educate me on our songs, our language, and our culture. I hope that I am able to impart some of that knowledge onto you through this song.
𐓏𐓘𐓻𐓘𐓻𐓟 𐓀𐓘͘𐓯𐓟 𐓓𐓣͘𐓤𐓘 𐓍𐓣𐓰𐓘 𐓈𐓪͘𐓬𐓘𐓬𐓟
Loose translation: "All you Osages, look upon your children"
This line in the song is very important, as it gives a command to the Osage people to look upon their children. It doesn't mean to simply look at your child, it means to look after them. Make sure they have all their needs met, clothing, food, shelter, a loving and safe home, all of those things.
𐓏𐓘𐓤𐓘͘𐓰𐓘 𐓁𐓣𐓤𐓟 𐒰𐓩𐓘͘ 𐓏𐓣𐓤'𐓘͘ 𐓵𐓟
Loose translation: "Holy God, you are the one who will help"
This next line in the song refers to 𐓏𐓘𐓤𐓘͘𐓰𐓘 𐓁𐓣𐓤𐓟, how the Ponca people refer to God. It continues, saying that God is the one who will help you. This is another powerful line in the song, because when they say God is the one who will help you, they are referring to meeting those needs that are spoken of in the first line. It is hard to raise children, especially in our modern world. Sometimes parents fail to meet those needs of their child. That is what the song refers to, when we reach that point of despair, 𐓏𐓘𐓤𐓘͘𐓰𐓘 will help us pick up where we fall short.
Yaah Way Hiiii Yaaaa Way Hi yo hi ya Way hey ho wayo heyyy
Yaah Way Hiiii Yaaaa Way Hi yo hi ya Way hey ho wayo heyyy yoo
𐓏𐓘𐓻𐓘𐓻𐓟 𐓀𐓘͘𐓯𐓟 𐓓𐓣͘𐓤𐓘 𐓍𐓣𐓰𐓘 𐓈𐓪͘𐓬𐓘𐓬𐓟
Heyyy yeyey yoo
𐓏𐓘𐓤𐓘͘𐓰𐓘 𐓁𐓣𐓤𐓟 𐒰𐓩𐓘͘ 𐓏𐓣𐓤'𐓘͘ 𐓵𐓟
yeyy Ahi heyyy Hii Heyy yooo
Honor beats x3
𐓏𐓘𐓻𐓘𐓻𐓟 𐓀𐓘͘𐓯𐓟 𐓓𐓣͘𐓤𐓘 𐓍𐓣𐓰𐓘 𐓈𐓪͘𐓬𐓘𐓬𐓟
Heyyy yeyey yoo
𐓏𐓘𐓤𐓘͘𐓰𐓘 𐓁𐓣𐓤𐓟 𐒰𐓩𐓘͘ 𐓏𐓣𐓤'𐓘͘ 𐓵𐓟
yeyy Ahi heyyy Hii Heyy yooo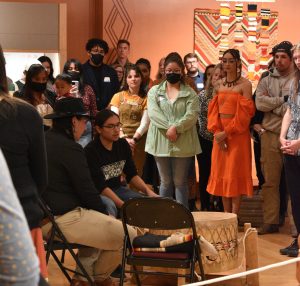 Noah Shadlow (Osage Nation) representing Skyhawk Nation with Qootsvenma Dennipah-Cook (Ohkay Owingeh, Diné, Hopi) at the opening of the exhibit.